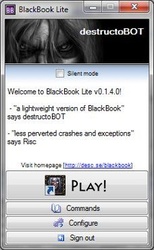 BlackBook is a next-gen blacklist by two guys from Sweden.
It features global nickname/ip bans with an approval-system, auto-refresher, delay-reducer, automatic kicking of high latency and foreign players, voting-system, slot-saver, and more. 
BlackBook automatically recognizes if you are using an old version of the software, and alerts you of course, but we do suggest that you visit the BlackBook-website instead of using the download provided here.
Note: This has not been tested on Vista.
Changelog:
1.0.1.5 (26-11-2008)
- Added new command, /dotaver, that displays the current DotA version (experimental)
- Added support for multithreading
- Major improvements to the voting system
1.0.1.1 (25-11-2008)
- A couple of new settings and tweaks for the autorefresher.
- New IP-databases.
- Uncountable bugfixes.
Download BlackBook (Next-gen Banlist)