If You are bored with old Wc3 interface You can change it or make Your own Wc3 interface.


This will change Your WC3 UI, new background, buttons and fonts.
Warcraft 3 Background Changer:
You can chose 5 background themes from Warcraft III: Reign of Chaos and 5 themes from Warcraft III: Frozen Throne and + 2 beta themes, black and no-logo theme.
This program is intended to customize the game appearence with some very known feature like changing the MainMenu background with those from the campaigns and other very cool options to change and get a new look.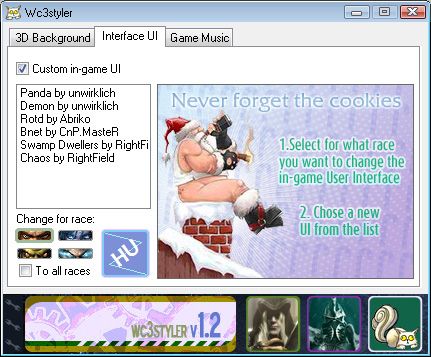 Aeon Flux's Sh4peshifter:
Sh4peshifter allow for 2 things: 1st to change the main menu background to one of your choice and it also let you change models in-game.
ex. you can add the Shadow Hunter Mask from the beta. You will see it in game online but others will see the original, unless they are using the same program.
All these changes work perfectly on B.Net. It only exchanges files, so it's no hacking. There is a rollback button so you can revert to initial models and menus.
Babe version for horny people :
If You want more customization
check this awesome theme collection
, it's have 46 themes for Warcraft 3!